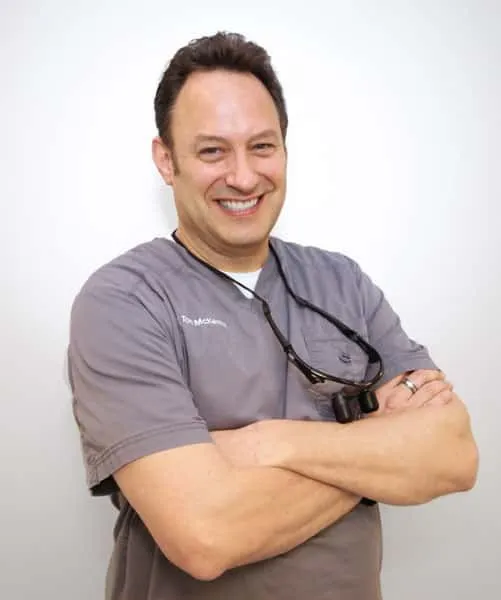 Typical Dentist? Stereotypic Dentist? Traditional Dentist? NO!
What makes the patients of Dr. Tom McKenna love him, continue to have their oral health needs taken care of by him and refer their friends and family to him? Every reason that separates him from the traditional stereotype of "Dentist" is what make patients ask for more.
He is not Dr. McKenna; he's Dr. Tom. His friends confide in him. That's right. His dental patients start out being his patients and end up being friends. Dr. Tom McKenna and his team treat friends the same way they treat their own family members.
It all starts with a conversation. The point of the conversation many times is not only about their dental fears, past experiences or treatment needs. Those conversations often begin by sharing what makes them unique, their likes, dislikes, and getting to know who the patient really is. Dr. McKenna's philosophy has always been "I don't fix teeth, I treat people."
Dr. Tom received his DDS from University of Illinois in 1991 and has countless hours of continuing education to ensure that he is offering the best care available to his patients. More importantly he has thousands of hours of patient care. He has an innate ability to connect with people, working cooperatively to obtain each individual's optimal dental care, today and in the future.
You will find nothing "off the shelf" in this environment. Every patient interaction is customized and not pretentious-- Genuine and sincere delivery of care!
Whether you're 3 or 103, scared or brave, wanting the lastest information on Invisalign, extractions, oral surgery, root canals, dentures, cosmetic treatment, implants, or just want to meet our staff and see why we're different. You really owe it to yourself to give us a call.
Dr. Tom has shared with patients, team members and colleagues that they should come to his office and "have a gas". (He's not necessarily talking about nitrous oxide.) Isn't it time for you to reserve your appointment to find out what your friends and neighbors are talking about?